For today's glamorous visit to the OBGYN and telework, I chose a Houbigant Fragrance that I have adored for years: Chantilly.
Today's bottle is a late 1960s edition of the 1941 parfum, from before the formula was purchased from Houbigant by Dana.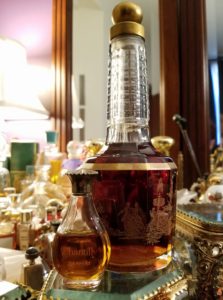 A lot of you may know it as a scent that your grandmother wore, or you may have even been gifted a (Dana) set for a holiday or birthday in the 1980s. I love these older bottles, as the ingredients had so much integrity, and they have aged well. These older bottles feel like a naughtier Shalimar… almost a cross between Jolie Madame and Shalimar: all carnation, rose, and vanilla sweetness wrapped around a spicy oakmoss and sandalwood soul, with just the tiniest bit of naughty jasmine. I have feelings of warmth and comfort wrapped around this piece of personal nostalgia.

Today's lingerie is a silk Natori camisole under a cashmere sweater, Soma knickers, and another round of a dozen socks.
#GetTested #SelfExam #PerfumeFetish #InvisibleArmor#HautePerfumerie #FrenchPerfume #GrandmaPerfume#SheWasOneHotGrandma #Cliche #NoShame#TrueVintage #Houbigant #lingerie #silk #natori #soma