Among many other bottles, I collect a certain travel bottle presentation set from Guerlain, which seems to be a collaboration between Baccarat, Marcel Franck, and sometimes it is claimed that the leather cases were made by Hermes. A veritable trifecta (quad-fecta?) of French Savoir Faire produced from the 1920s-1960s.
I would like to know where this set may be documented in catalogs, advertising, or books to learn more about them and verify the claims that I have heard. My resources, admittedly limited compared to what many of you have at hand, have only gotten me so far.
All of the bottles are acid etched Baccarat.
I have paperwork with the Green-cased set that is stamped 1967.
The hardware has all of the characteristics of Marcel Franck.
The leather cases are perfectly made, and are of the absolute highest quality. The styling and finishing does seem in line with other Hermes small leather goods of the early-to-late mid-century.
Now, on to the hardware…. the hardware comes in two versions: one with a large trumpeted flare where the bulb attaches, and the other a very narrow tube with no outward flare where the bulb attaches. The trumpeted flare is in the green case that came with the documentation stamped 1967. I only have two with the narrow tube, one is in the yellow/buff textured case, and one I found without a case altogether. The rest are all flared.Neither of these attachments fit the standard bulb screw size of today, and are either too large to insert, or so loose that they would need a plastic tubing sleeve to take up the extra space. The siphons are also of different diameters where they attach to the atomizer head/cap. The 'narrow' bulb has a wider siphon, and the flared bulb has a narrower siphon.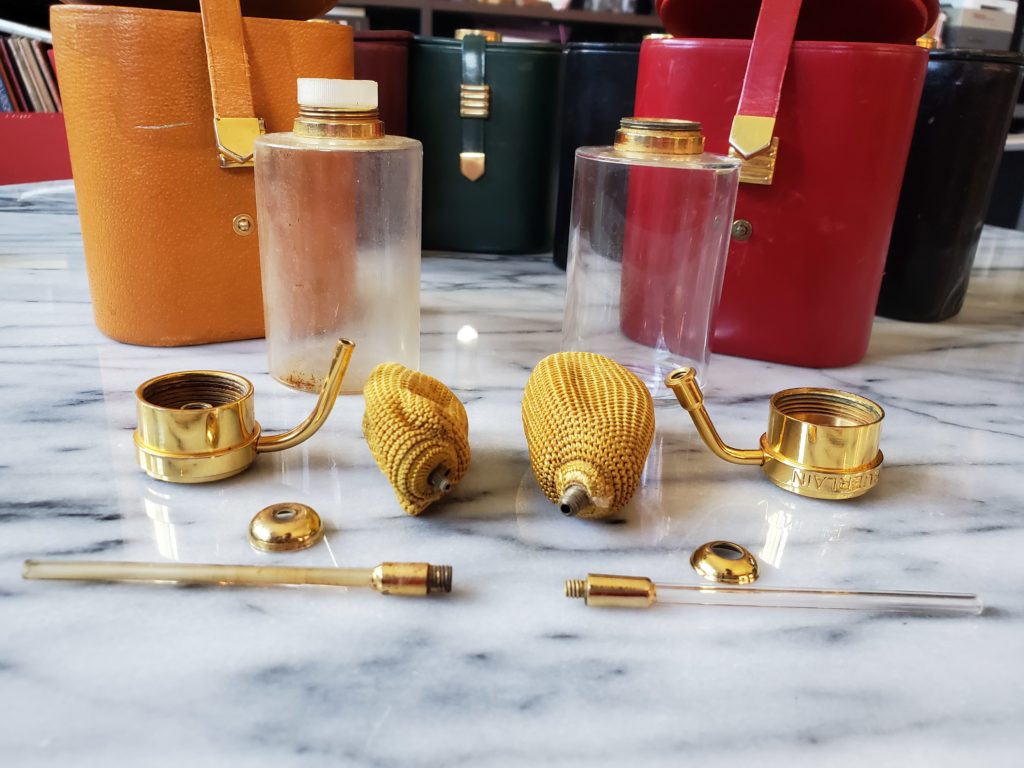 I am always researching ways to locate bulbs that would natively fit, or a referral to someone who can manufacture an entire new bulb that fits, please!
Should you wish to include any of my photos or my analysis into your own blog, please PM me for permission and information on how to correctly attribute the analysis, collection, and images.