Upcoming Performances
Want me to join your cast in an upcoming event? Book me for your next show!
All Kids Out of the Pool Part Two: Night of a Thousand Ricks! Thanks to Glit-o-Rama productions, I'll be bringing Brak back to the stage for one gloriously stupid night at the Bier Baron on 5.20.2017! Tickets available now!
The next Philanthrotease event is during PRIDE Weekend in DC!  A Tribute to George Michael, Too Funky brings the Best of DC Burlesque to the Bier Baron Tavern stage on June 10th 2017 at 9 PM. Tickets, including VIP Reserved seating are available now!
I am honored to have been invited to perform in the Capital City Burlesque and Vaudeville Festival! My infamous tribute to David Bowie's Space Oddity is slated for the Silver Slipper Speakeasy on June 30th at the Black Cat. Come see a fan dance like none other!
Past Performances 
Philanthrotease brought the glamour in a benefit for DC SAFE  at the Black Cat DC with DIVAS: Survivors of Pop! 8.19.2016
I joined Hot Night Productions for a Summer Shindig, sure to make for a sultry evening. 6.18.2016
Philanthro-TEASEpartnered with Lucrezia Blozia's Underwater Birthday Burlesque where we celebrated our birthdays with a portion of the show's proceeds going to the Anacostia Watershed Society! 5.29.2016
Space Oddity slayed the stage at the Opening Night of the Philadelphia Burlesque Festival! 5.19.2016
Hexwork Spring Equinox Brunch The Bier Baron Tavern 3.20.2016
Self Love Baltimore Club Orpheus 3.5.2016
http://self-loveburlyqbmore.bpt.me/
First Ladies! Get to the heart of DC's Body Politic at the Bier Baron 2.20.2016.
My first foray into production! The Life and Times of Major Tom: A Chronological Burlesque Tribute to David Bowie @The Rock And Roll Hotel 2.11.2016 Benefitign the Wanda Alston Foundation
http://www.rockandrollhoteldc.com/calendar/the-life-and-times-of-major-tom-a-chronological-burlesque-tribute-to-david-bowie/
Sunday Brunch, February 7th 2016: Self Love at the Bier Baron. Bring your appetite to DC's favorite sport.                                          http://self-loveburlyqdc.bpt.me/
Friday and Saturday, December 18 and 19th, 2015:  Gilt-o-Rama Productions Presents a short tour of your favorite late-night cartoons in
"All Kids Out of the Pool!" Friday we will be in Baltimore at Ottobar, and Saturday in DC at the Bier Baron.  Come see my BigO face!
Sunday, October 25, 2015 at 7 PM  Burlesque returns to Mr Henry's on Capitol Hill.  Dancers perform classic acts to live jazz by
Herb Spice and the Cinnamonstix for a Dinner Show to remember! Get your tickets for this amazing experience.
August 28, 2015:  RVA Cabaret and Variety Show at Gallery 5, West Marshall Street, Richmond, Virginia, Doors 8 PM,
Show at 9PM. Tickets available in August. See me debut my glorious turquoise feather fans, Tickets available now! All proceeds are donated by the RVA Cabaret to Gallery 5, and incredible community resource.
August 21, 2015: 8 Bit Revue at  The Black Cat, Washington DC.  Doors at 9 PM, show at 9:30. 
  Join Maki Roll & company as they take you on a multi-level voyage into the worlds of your favorite video games. From PC gaming to console and everything in between, this show is sure to have your butts glued to your seats and your eyes open wide.  Tickets available now!
August 14, 2015: Naked Girls Reading: So You Wanna be a Naked
Girl? See me practice my elocution while reading Tanazaki's essay In Praise of Shadows at the DC Arts Center. Doors at 10 PM, Show at 10:30. Tickets available now!
August 7, 2015: The Evil League of Ecadysiasts presents Sherlock
Holmes and the Adventure of the Black Cat  at The Black Cat, Washington DC. Doors at 9 PM, show at 9:30.  Tickets available now!
We've now added a second show at 11 since the 9 PM has SOLD OUT!  Get tickets here for the 11 PM.
June 19, 2015: Evil League of Ecadysiasts presents the Fourth
Annual Whedonism at the Black Cat! Doors at 9, Show at 9:30. I'll be your favorite space ship and collectible firearms thief with a knockout kiss.
June 13, 2015 Lady Fancy's Darque Glamour at Club Orpheus, Baltimore. Doors at 9pm, show starts at 9:30pm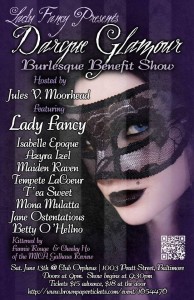 I'll be your Alfonse Mucha painting, a light in the dark.
May 15, 2015: Stage Kitten for La Burlesque Follies at Bossa
Lounge Washington, DC
April 17, 2015: Debut Performance with Studio Holliday's Budding Burlesque Beauties, Inaugural Class at The Black Cat, Washington, DC